When someone asks which country is currently best in football globally, you can answer with some subjective and objective arguments.
Subjective are those which refer to the quality of players, style of play, personal preferences….
"Germany has the best players, but Spain plays the most dominant football. However, Argentina is the best in my opinion, even though they didn't play well in the last few matches", could be one of a million answers.
On the other side, some objective arguments refer to recent achievements and the official FIFA World Ranking.
"France is the current world champion, but Belgium is the top football team according to the FIFA Ranking. Brazil is the current South American champion and third on Fifa ranking, behind France. Therefore, those three nations are currently the best in the world".
The same goes for futsal; there are subjective and objective arguments when talking about the world's best futsal nations.
One of the objective arguments is associated with the Futsal World Ranking. Unfortunately, that is not an "official" futsal ranking (since FIFA does not calculate it) but based on the ELO ranking system (which doesn't mean that this ranking isn't relevant, since the Elo ranking system, named after its creator Arpad Elo, a Hungarian-American physic professor, is one of the most accurate methods for calculating the relative skill levels of players and teams in zero-sum games).
Before the new team rankings in football and futsal are published, we decided to compare the 20 best-ranked football nations, according to FIFA World Ranking, and the 20 best-ranked futsal nations, according to the ELO Ranking system, and see how they stand on opposite scales.
Football
Belgium is the top football nation at the moment, with 25 points more than France. Therefore, Belgium is the best ranked European country in football. On the other side, Belgium is 28th on the Futsal World Ranking system and 17th among European futsal nations.
France (world football champion) is second on FIFA World ranking and second on UEFA ranking. Futsal in France is in significant expansion. However, they are currently 23rd on the World Ranking and 15th on the European scale.
Brazil is the third in the Football World ranking and, as a South American champion, the best South American football nation. Futsal Seleção is second on Futsal World Rankings, with 5 points less than Spain.
England is fourth on football ranking. However, we are all familiar with an unfortunate relationship with the FA and England futsal. Futsal Three Lions are currently 59th on the Futsal World Ranking and 28th among European countries.
Portugal is the current European football and futsal champion. Besides that, Portugal is fifth on both tables. Portugal also has arguably the best football and futsal player in Europe – Cristiano Ronaldo and Ricardinho.
Spain is 5th in football's ranking (4th among European countries) and is the leading nation on the futsal scale, with 5 points more than Brazil. Spain's LNFS is arguably the best futsal league in the world, however, Spain national team is waiting for the gold medal in Futsal since Euro 2016.
Argentina is the seventh football country in the world and second in South America. Even though Argentina is the current world futsal champion and winner of the South American qualifying tournament for the World Cup 2021, they are third on the futsal ranking with more than 100 points less than Brazil.
Uruguay has only 3.4 million inhabitants but is a football giant and the country-inventor of futsal. However, they are much better on football world ranking (8th) than on futsal's (37th). They are not even among the five best-ranked South American futsal countries (6th).
Mexico is the best North American football country. However, Mexico is 50th on the futsal table, 5th among North American countries.
Italy is 5th country (after Brazil, Portugal, Spain, and Argentina) that is in top 10 of both rankings. However, even though they missed to qualify for the Futsal World Cup, they are better ranked on the futsal scale (8th, 5th in Europe)
Croatia is the current world football vice-champion, but Croats are better ranked on the futsal table (10th). They remained in the top 10 world countries even though they failed to qualify for their third major competition in a row.
Denmark is highly ranked on the futsal scale. Currently, Danes are the 8th best-ranked European team. However, it is far from their most popular indoor sport, handball. They are 63 on the world futsal ranking table and 30th in Europe.
Germany is a football giant, with magnificent players, but is going through a rough period. Therefore, they are 13th in the world ranking and 9th in Europe. On the futsal scale, they are between England and Denmark, in 61st place.
The Netherlands, another "fallen" football giant with terrific players, is in 14th place and among the ten best European nations. Futsal Euro 2022 host is currently 35th on the futsal ranking, 21st among European countries.
Colombia is the fourth-best South American country in football and the fourth-best South American country in futsal! They are better ranked on the futsal scale (11th) than on football's (15th).
Switzerland is one of the regular participants in significant football competitions. However, Switzerland is one of the weakest futsal countries, ranking 84th (out of 109 nations) on the world scale and 40th (out of 50) on the futsal scale.
Chile stands excellent on the football scale, but futsal is not a favorite sport in that western South American country. Chile is 54 on the futsal scale, 9th (out of 10) among South American countries.
Wales is currently the second strongest Britain country and among the world's best 20 countries. In football. In futsal, they are the second strongest Britain country as well. Or, should we say, the second "weakest" country since Wales is ranked 90th (out of 109) on the futsal world scale.
Poland is a country with a long football and futsal tradition. Football is currently their most favorable sport, since they are 19th on the football scale (13th in Europe), and 33rd on futsal scale (19th in Europe)
Senegal is the best African Football nation and the only one among the top 20 football teams globally. However, Senegal is the only nation on this list that doesn't even exist on the futsal ranking table. They don't even have a national futsal team that competes on the international level.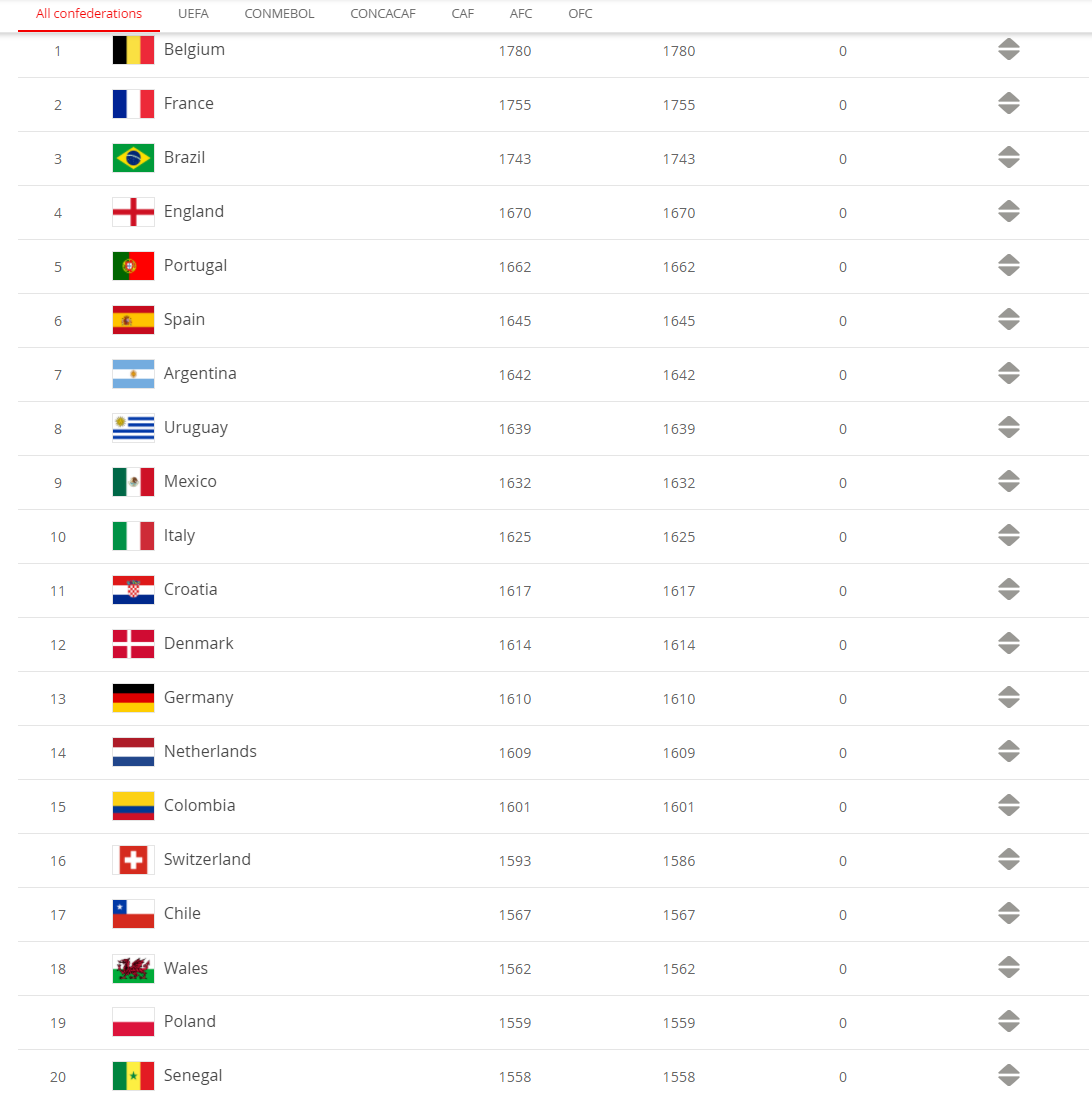 Futsal
Spain – see Football no.6.
Brazil – see Football no.3.
Argentina – see Football no.7.
Russia is the current world vice-champion, and by all means, one of the best futsal countries. Even though they also have a good football team, they are situated in 39th place, 21st in Europe.
Portugal – see Football no.5.
Iran is the current world bronze medalist and by far the best Asian futsal country. They are also the second-best Asian football country (after Japan) but are 29th on the football World Ranking.
Kazakhstan is known for its great national team and club, Kairat. Having several excellent naturalized Brazilians, Kazahstan is among the best futsal countries. However, they are currently 122 on the football scale and among the ten lowest-ranked European teams.
Italy – see Football no.10.
Paraguay is among the ten best futsal countries (3rd in South America), but I also a country with a great football tradition, despite being situated 34th on the current FIFA's scale.
Croatia – see Football no.11.
Colombia – see Football no.15.
Ukraine is one of the best European futsal countries. They also have a strong football team, 24th on the World Ranking, and 16th in Europe
Azerbaijan has a similar story as Kazakszan. Strong futsal national team and club Araz, inforced with natural Brazilians, doesn't stand so well on football ranking. They are currently 109th on FIFA ranking.
Serbia recently qualified for their second World Cup in futsal and is among the ten best European countries. Despite having great footballers, they struggle in a "bigger" sport (failed to qualify for another major competition), being placed in 30th place on FIFA's scale
The Czech Republic also qualified for the Futsal World Cup but, despite qualifying for the Euro 2020, struggle on football scale (42nd place)
Japan is the second-best Asian country in futsal and the best in football according to FIFA ranking. Japan is currently 27th on football's scale, two places behind their (both futsal and futsal's rival) Iran.
Thailand is a great Asian team in futsal (3rd), with a great league, teams, players, and the national team. However, Thailand is 111th on football's scale, 20th among Asian countries.
Slovenia is among the bests European teams in futsal, but only 62nd on Football's scale.
Belarus similar to Slovenia, besides being even lower on football's scale (on 88th place).
Finland is reliving the best moments of football and futsal history. The finish has qualified for their first major football competition (Euro 2020), and we're very close to qualifying for the Futsal World Cup. They are the 54th world futsal country, according to FIFA.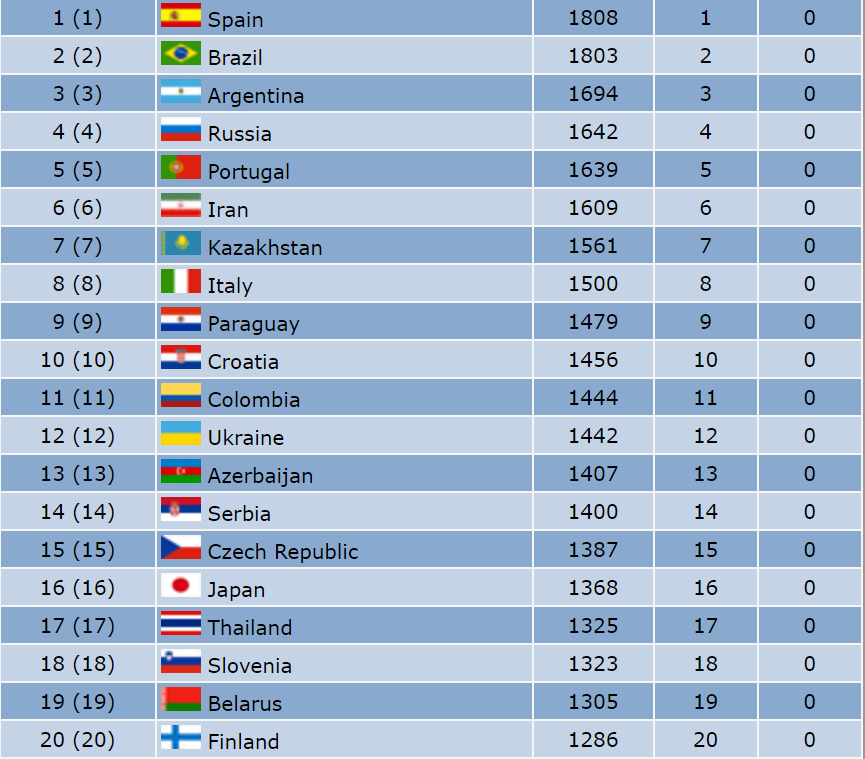 Therefore, seven countries are ranked among the 20 best in both sports: Spain, Brazil, Argentina, Portugal, Italy, Croatia, and Colombia.
Brazil is second in futsal and third in football. Therefore Selecao has the best score (5) when we combine both sports. Spain is second with 7 points (1st in futsal and 6th in football), Argentina (3+7) and Portugal (5+5) have 10, Italy has 18 (8+10), Croatia 21 (10+11) and Colombia 26 (11+15).
Among the top 10 footballing futsal countries, there are France 25 (23+2), Iran 35 (6+29), Ukraine 36 (12+24) and Japan 42 (15+27).
Top 20 - Combine table (Futsal + Football)
Brazil 5 (2+3)
Spain 7 (1+6)
Argentina 10 (3+7)
Portugal 10 (5+5)
Italy 18 (8+10)
Croatia 21 (10+11)
France 25 (23+2)
Colombia 26 (11+15)
Iran 35 (6+29)
Ukraine 36 (12+24)
Japan 42 (15+27)
Russia 43 (4+39)
Paraguay 43 (9+34)
Serbia 44 (14+30)
Uruguay 45 (37+8)
Netherland 49 (35+14)
Poland 52 (33+19)
The Czech Republic 57 (15+42)
Mexico 59 (50+9)
England 63 (59+4)
>> Top 6 emerging futsal nations