It is already a widely known fact that futsal is one of the fastest-growing sports in the world. The futsal roots date back to the first half of the 20th century. The foundations were laid in Uruguay in 1930, but Brazil is responsible for the spread and the institutionalization of the sport that was played firstly in South America and nowadays is represented in almost every corner of the world.
> A million-dollar question: Who invented futsal?
But, despite its tradition, futsal has been considered as an amateur and recreational sport throughout most of its history. FIFA took the patronage over futsal, not before the late 1980-s, and in the first decade of its "institutionalized" form, the best futsal teams (besides Brazil and Spain) were countries which had a tradition in playing variations of indoor soccer like Belgium, Netherlands, the USA as well as the former Soviet Union's and countries of former Yugoslavia.
> The brief history of the FIFA Futsal World Cup
> The brief history of the UEFA Futsal Euro
The professionalization of the sport began in the 2000s, but the full process of professionalization futsal has experienced only recently, several years ago.
Even today, when we spoke with some of the most eminent futsal experts in the world, like Roberto Osimani, Hicham Dgugig, Dušan Matić, Otto Orf, Mićo Martić and others, they all emphasize one thing – the development of futsal in a certain area requires continuous and quality education of coaches who will then transfer their knowledge to young players.
Unlike football, basketball and even other traditional sports such as handball and water polo, there is still very few quality futsal literatures that can provide young coaches with quality knowledge and help them in their education. In many parts of the world where futsal is being played, there are no coaches who have worked in futsal on a professional level. Therefore, they cannot efficiently transfer their knowledge to their fellow coaches and young players who are just beginning to get acquainted with this sport.
But there is a solution…
Recently, the new, totally renewed version of CoachingFutsal.com was released!
"Futsal coaches, you can start celebrating! The new version of CoachingFutsal is finally online and destinated to further improvements and updates in the next weeks. Totally renewed compared to the original version launched in 2011 as a kind of Futsalplanet.com' spin-off, CoachingFutsal is back with the unchanged aim of supporting futsal coaches worldwide and giving them access to world-class expertise. We have relaunched the website with a user-friendly platform that makes it even easier for you to deliver high-quality coaching", stated Martić for the FutsalPanet.com!
What CoachingFutsal really is? It is an ultimate futsal-coaching platform on which every user can create futsal exercises, training sessions and futsal concepts and share them with other users. Every user creates content for coaches and fills database which is getting bigger and better every day.
Currently, Coaching Futsal has 4.833 registered users. Some of the most eminent futsal coaches, such as Osimani, José Venancio, Moreno Vita and other have published 2009 training sessions, 1654 exercises, plenty of theoretical explanations and 48 futsal concepts (by the time you read this text, the number we believe has grown).
And, what is best of all – it is completely free!
Every guest that comes to the web site can access the complete database of futsal exercises, training sessions and futsal concepts. The material is written in the native language of the authors (coaches), but you can easily translate them with the right-click on your mouse and click the translate button to English or your native language.
If you become a standard user (free registration) you can create your own exercises, copy them from the database and customize them. You can also comment on all of the exercises and share them through social media platforms and email.
There is also a PRO User option that cost 12 EUR per year (!?), which means only 1 EUR per month (!?) that gives you access to the full potential of the site. You can create, copy, download and share all futsal training and concepts and you can also use Google (or other) calendar to add all your activities (training sessions, games, etc.) and share the calendar to specific individuals or groups (for example, the players in your futsal team).
(There is also a Championship User option, but it is a consulting service, the premium edition of Coaching Futsal "PRO User" is just a bonus).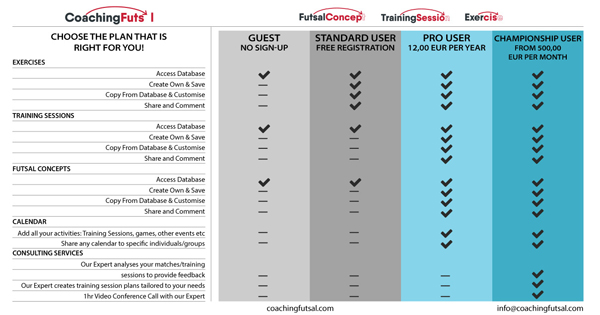 "The idea is that users, like futsal coaches, players and staff create relevant content for futsal development, so we can all bring added value to the futsal community. It is an open platform and very shareable for social networks and websites. The idea was never to make a profit of it, just to make an ultimate platform for futsal community and give it as much as possible material to learn and progress", said Martić.
> Mićo Martić: The futsal explosion is already happening!
The platform has not reached its final version yet. Martić said it will evolve and upgrade over time to make it even more affordable and simpler for its users.
If you are a futsal enthusiast and are eagerly trying to learn new things from the biggest futsal experts in the world?
Then what are you waiting for… register for free to CoachingFutsal.com!