Today, the connection between football and futsal is more evident than ever before. Futsal techniques are regularly used as part of the training processes in football teams across the world, especially in those teams that prefer a bit more technical style of play. But regardless of that, football needs futsal in order to develop better players with better response time and with knowledge to make plays on small surface – traits that have become dominant on the football field.
On the other hand, futsal can still benefit from footballers that used to play, still play or love futsal in order to promote our sport in areas of the world where it is still not sufficiently exposed. In addition, national football associations can do tremendous things for the sport if they decide to invest more funds and educated personnel in development of futsal leagues and youth systems in their countries.
>> What is the best footballing futsal team ever?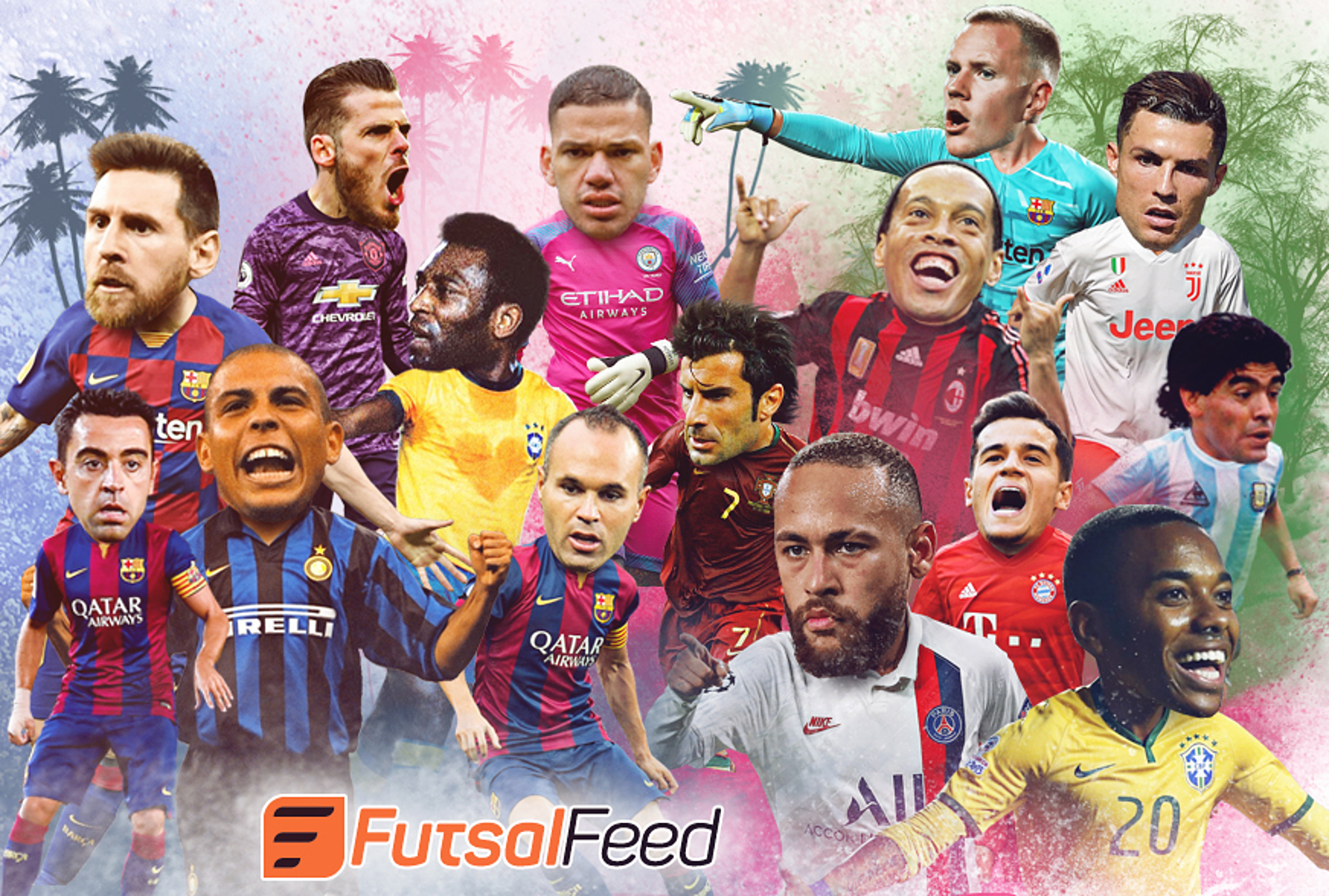 In order to illustrate how intertwined these two sports are, we have created this list of Top 10 footballers that love playing futsal and who owe a big part of their football development to futsal. By reading through this list, it will become evident how futsal is important for development of a football player and that many of them still reminisce the days when they played futsal. One more thing before you start. This Top 10 list is only a provisional list and it is sorted alphabetically (by players full name).
1. Andrés Iniesta
Andrés Iniesta, one of the most renowned footballers in history due to his amazing technical skills also made his first footballing steps playing futsal! He said that he always wanted to be a footballer but played futsal because that was all they had in the place he was growing up. Iniesta said that football and futsal "Have a lot in common … There are different tactics and moves, but there the same essence of mastering the ball, combining and making quick decisions."
Iniesta also understands how important futsal is for development of footballing skills in young athletes: "Futsal helps my ball control in tighter spaces."
2. Cristiano Ronaldo
"During my childhood in Portugal, all we played was futsal." Said Cristiano Ronaldo. It is interesting to note that futsal really is everywhere. All of these players played futsal when they were kids, but for some reasons most of the players shift their careers to football.
"The small playing area helped me improve my close control, and whenever I played futsal, I felt free. If it wasn't for futsal, I wouldn't be the player I am today." This statement shows just how important it is for young footballers to develop skills that can be best honed by training futsal.
3. Lionel Messi
FC Barcelona's all-time leading scorer Lionel Messi also owes a huge part of his football development to futsal. At the time he was still playing for Newell's Old Boys, taking his first football steps in Argentina, he indeed played a lot of futsal.
"As a little boy in Argentina, I played futsal on the streets and for my club. It was tremendous fun, and it really helped me become who I am today." We are not mad that Messi decided to pursue his football career because… Messi. But to see his magic on the futsal court would have been at least equally amazing, we are sure of it!
4. Luis Figo
"I played futsal in my youth and that was a great experience. It helped me with different set of skills to approach professional football." Said Luis Figo in an interview given before the start of the UEFA Futsal Euro 2018 in Slovenia. Again, like his colleagues, he emphasized the different variety of skills he mastered in futsal which made his transition to professional football easier.
But unlike many others, Luis Figo made an effort to promote the game of futsal in India, trying to connect with the large Asian market. Unfortunately, the project itself was unsuccessful but the potential of such a large market is still up for grabs. "We need to do more to promote this sport because it is so entertaining, because it is a skilled-based sport, it is fast, with many goals. There is a lot of talent and there are many good players in the sport and we need to promote it more!"
5. Neymar Jr.
Another football superstar speaks in superlatives when talking about futsal. "Futsal had a massive influence on me when I was growing up. It's a very demanding game and it really helped to develop my technique, speed of thought, and ability to perform moves in tight spaces. I think futsal is a fundamental part of a footballer's life." And we could not agree more.
"There's no doubt futsal has helped me a lot in my career, it's one of the biggest passions in my life. I used to love playing it, but unfortunately I had to stop when I was 13 or 14 in order to grow up as a footballer." It would have been very interesting to see Neymar's development as a futsal player. We have no doubt that he would have been one of the greats.
6. Pelé
One of the first football giants Pelé also attributed a lot of development of football players to futsal. "Futsal requires you to think and play fast. It makes everything easier when you later switch to football."
In 'Soccer World Magazine' Pelé also gave a lot credit to futsal for making him a great football player: "Of course Futsal was important in helping to develop my ball control, quick thinking and passing." In the book he added that futsal helped produced many great players in his generation and that all the best players began their careers with futsal.
7. Philipe Coutinho
Our youngest football player on this list also praised futsal for his unbelievable talent. "I played futsal from the age of six," Coutinho said. "Then when I was seven, I went to Vasco da Gama, I was playing futsal until I was 11 before I moved to the pitch."
If you ever watched Coutinho play you could not miss how incredibly talented with the ball he is. His skills come in a big part from extensively playing futsal when he was younger: "This is where I learned my skills. When you play futsal, it is more technical and much quicker. The place where you play is much smaller and the pace higher so you need to be a highly technical player to play futsal properly. That helped me a lot so wherever I go I try to adapt and learn quickly."
8. Ronaldinho
"I loved futsal and it was difficult for me to give it up." said Ronaldinho. Growing up in the less fortunate parts of Porto Alegre in Brazil, Ronaldinho's first football steps were made indeed at – futsal.
"A lot of the moves I make originate from futsal. It's played in a very small space, and the ball control is different in futsal. And to this day, my ball control is pretty similar to a futsal player's control." Without any doubt, Ronaldinho's signature moves can be attributed to his early exposure to futsal.
9. Ronaldo (El Fenomeno)
Few footballers have such a cult status as Ronaldo Luís Nazário de Lima has, none of them was nicknamed The Phenomenon. Off the football pitch and among the futsal fans he is also famous for saying: "Futsal will always be my first love." He played futsal since he was 12 years old and during this time, he recorded some of the most incredible statistics such as scoring 166 goals in his first season for Social Ramos, his club at that time.
"I needed extremely good feet, because you're always attempting to beat opponents in the minimum of space. I loved the challenge of playing on such a small pitch." Football fans will remember his game-winning toe-poke finish against Turkey in the semi-final of the 2002 World Cup. It is a finish that he learned while playing futsal and a move that is still regularly used by futsal players.
10. Xavi
We will end this list with Xavier Hernández Creus, or simply known as Xavi. In one interview, Famous Barcelona's midfielder admitted that football's "smaller-sided brother provides me with ultimate definition of the beautiful game." No wonder that he enjoyed and commandeered the tiki-taka so well, when you think about it.
As a closing statement, we will leave you with Xavi's opinion on talented players in futsal and football: "In futsal, you see whether a player is really talented. In normal football you don't necessarily identify talent as easily because it's so much more physical. But with futsal, you notice the small details in quality, class and tactical understanding."
Bonus: Robinho
Playing futsal in the poorer Brazilian neighborhoods, people who saw Robson de Souza, or simply Robinho, play described his game with words and phrases such as "unforgettable" and "defying the laws of physics". Futsal was responsible for developing Robinho's dribbling and acceleration skills, the ones that helped him reach a worldwide famous footballer status.
We are confident that there are many more players that owe, in part, their football success to skills they learned when they were playing futsal. Help us expand this list and tell us about football stars in your country that started their career playing futsal!
>>> 4+1 easy ways how can you support FutsalFeed