UEFA Futsal Champions League 2020/21 final tournament will be played from 28 April to 3 May in the Croatian coastal city of Zadar. It will be the first final tournament played in one city with 8 participants.
The final 2020/21 tournament was initially set to be held at the Minsk Arena in Belarus. Then, it was relocated to Croatian's capital Zagreb and finally, on 7 April 2021; it was relocated once again in Zadar due to Covid-19 issues.
The tournament will be held in Krešimir Ćosić's hall, built in 2008 and named after famous Croatian basketball player Krešimir Ćosić, born in Zagreb, but raised in Zadar and making his name by playing for the local basketball club Zadar.
>> Futsal Zadar: Welcoming the Champions League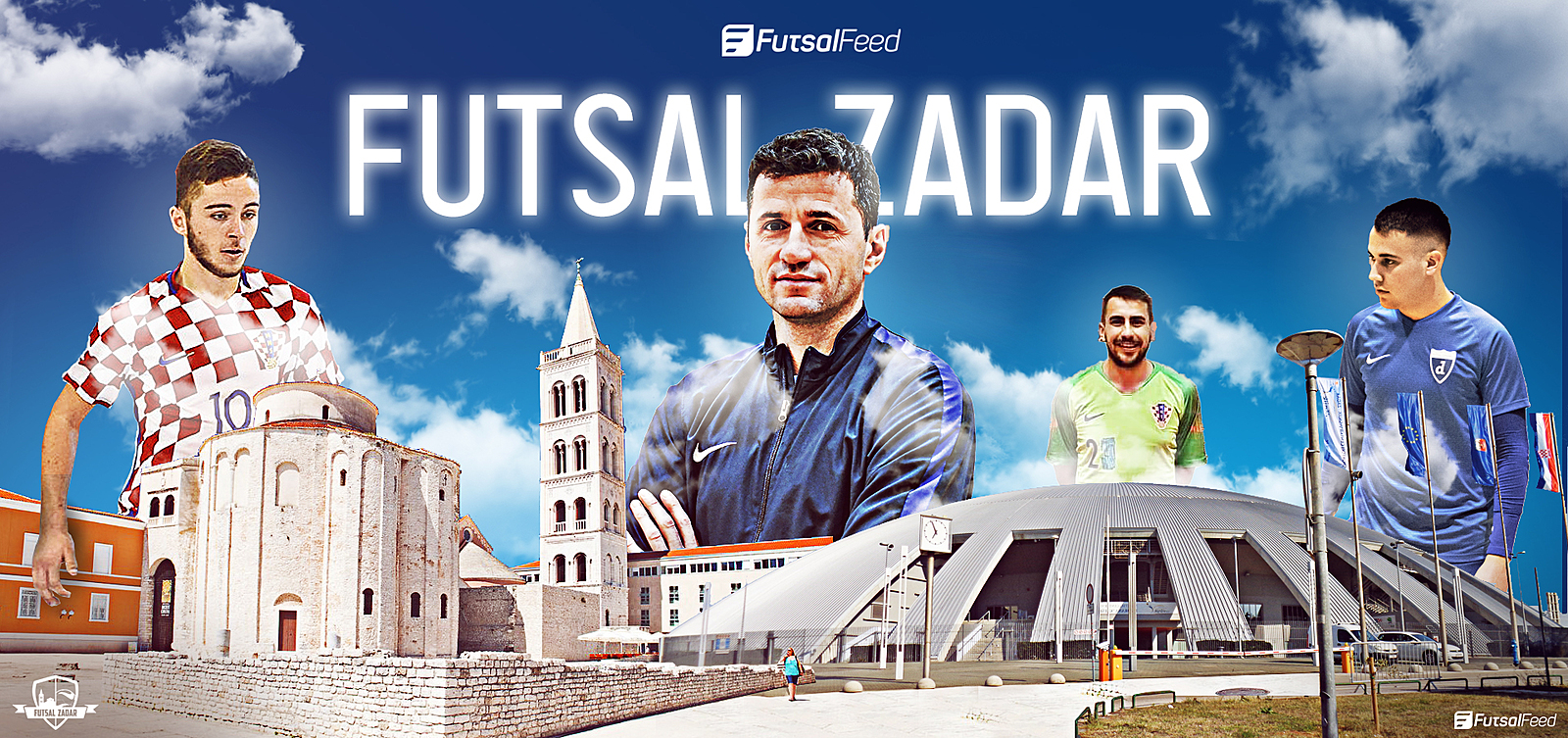 The tournament starts on Wednesday, 28 April with Kairat (Kazakhstan) – Benfica (Portugal) match at 15:00 CET, while Barca (Spain) and Dobovec (Slovenia) will play their quarterfinal match at 20:00 CET.
>> (HIGHLIGHTS) Kairat and Barcelona passed Benfica and Dobovec and reached semifinals
On Thursday (29 April), Inter (Spain) will face Ugra Yugorsk (Russia) at 15:00 CET, and Sporting (Portugal) will face KPRF (Russia) at 20:00 CET.
>> (HIGHLIGHTS) Kairat and Barcelona passed Benfica and Dobovec and reached semifinals
Semifinals will be played on Saturday at 15:00 (Inter vs Sporting) and 20:00 CET (Barcelona vs Kairat), and the final match is scheduled for Monday at 20:00 CET.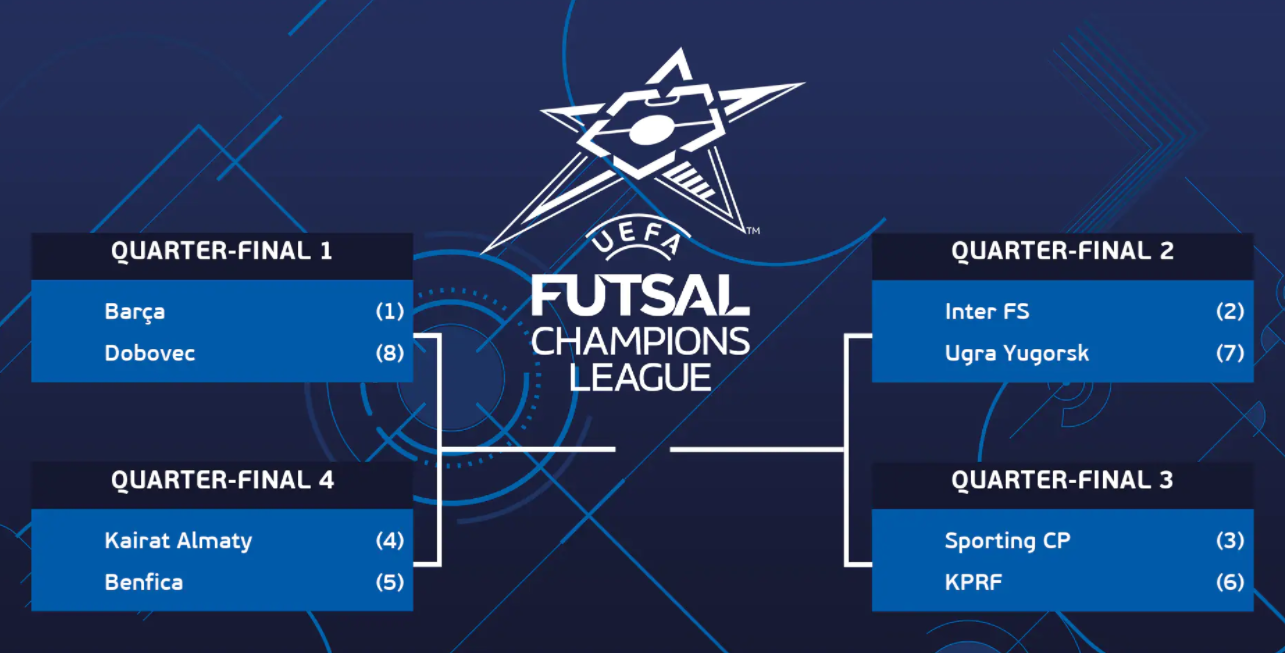 Barça (1)
Barça is the defending champion of the competition and entered the final tournament as a seeding team. After defeating Prishtina (9:2) in the first round, Barca had the most formidable opponent in the round of 16, strong ACCS Asnières Villeneuve 92. But, Barça managed to win the game 2:1 and secure their eighth final tournament.
Barça lost two Spanish finals this season (Copa de España and Spanish Supercup) but won postponed Copa del Rey 2019/20. After a lousy start in LNFS, Barça is currently fifth with eight points less than leading Levante.
Barça is full of star players, with lots of Spain's and Brazil's national team players. Their leading star is pivot Ferrão, two times in a row voted for the best world's player by FutsalPlanet and last year was selected in FutsalFeed's best team of the year. Barca also has other great Brazilians such as Dyego, Matheus, Daniel, Marcenio, Ximbinha, and naturalized Russian Esquerinha. There are also several great Spaniards such as Dídac, Aicardo, Adolfo, Joselito, and Sergio Lozano (FutsalFeed's best team of the year) who will miss the final tournament due to the knee injury gained in a match against Prishtina. There is also a Portuguese star André Coelho.
Dobovec (8)
This is the first time the Slovenian champion managed to qualify for the final tournament after defeating Malta's champion Luxol St Andrews (3:2) in the first round after a late Tihomir Novak's goal and Kazakhszan's vice-champion Aktobe (2:1) in the round of 16.
Dobovec is dominating the Slovenian futsal championship finishing the regular part with 18 victories in 18 matches and scoring 25 goals in the first three matches of the playoffs (they have a 1-0 lead against Bronx Skogfije in the semifinals).
Dobovec is a team made of the best Slovenian players such as Kristjan Čujec (suspended for the quarter-finals), Rok Mordej, Žiga Čeh, Klemen Duščak, Teo Turk, and goalkeeper Damir Puškar, as well as of great Croatian internationals Novak, Luka Perić, and Vedran Matošević with Croat Kujtim Morina on a bench.
FutsalFeed's prediction:
Even though Dobovec is a balanced team and can play equally against every team in a final tournament, it would be a big surprise if Barça would lose this match, especially since Dobovec cannot count on Čujec in quarterfinals. Even though they came to Zadar without a star player Lozano, European champions are indeed among the biggest favorites to win THE title; therefore, we type on Barca's win.
Barca (85%) – Dobobec (15%)
Inter (2)
Spanish champion and the most trophied European team with five titles. Madridians secured their 10th final tournament with wins against the Netherland's champion Hovocubo (6:2) and Ukraine champion Kherson (4:2). The match against Kherson was especially exciting since Inter got a victory with two late goals.
Inter recently defeated Barca in the Copa de España finals as well in Spanish Supercup; therefore, they are in great form before the final tournament. They are currently sixth-placed team in Spanish LNFS with 10 points and two matches less than leading Levante.
Inter's star players are Spaniards Dani Saldise, Cecilio, Borja, Eric Martel, Boyis, and internationals Pito, Bruno Iacovino and Fer Drasler from Brazil and Lucas Tripodi from Argentina.
Ugra Yugorsk (7)
Champions League winners from 2016 qualified for the final tournament for their third time, after defeating Bosnia and Herzegovina champion Salines Tuzla in the first round (5:2) and Lithuanian champion Vytis (3:0) in second.
Ugra won the Russian cup recently, defeating Tyumen in the finals with a 13:2 goal difference. However, they are currently sixth in the Russian Super League with 19 points less than the leading Sinara.
Ugra's biggest trump cards are Russian national team members Nikolay Shisterov, Andrey Afanasyev, Alexander Pirogov, Andrei Poknratov, Danil Davydov, Alexandr Vinogradov, as well as several internationals Zivad Kupatadze (Georgia, goalkeeper), Guilherme, Lima, and Villian Sousa (Brazil).
FutsalFeed's prediction:
Even though Ugra has a strong team, and Russians play matches with ten more minutes than the rest of Europe; we are giving advantage to Inter, which adequately compensated the departure of several class players in the summer and won two trophies in the strongest futsal league in the world.
Inter 60% Ugra 40%
Sporting (3)
Sporting from Lisabon is hoping to win their second European title after winning the 2019 tournament. Sporting qualified for this season's Final tournament (eight in history) with two convincing wins against Danish champion Gentofte (9:2) and Czech champion Chrudim (5:1).
Sporting finished the regular part of the Portuguese championship on the league's top with two points more than Benfica, which they beat in Portuguese cup finals 6:2.
Sporting's team is full of star players like Brazilian goalkeeper Guitta (FutsalFeed's best team of the year), Italian internationals Alex Merlim and Diego Cavinato, Taynan da Silva from Kazahkstan, and Portugal national team members such as Tomás Paçó, João Matos, Zicky Té, Pany Varela, Hugo Neves and Cardinal who suffered an injury in February and won't be at Nuno Dias' disposal this week.
KPRF (6)
Russian champion dominated the Russian Super League last season and qualified for their second consecutive final tournament with wins against Slovakia's champion Lučenec 7:1 and Croatian champion Olmissum in a tight match (2:1).
In the last season's Final Tournament, they finished third but are struggling this season. Currently, they are nine points behind Sinara in the Russian Super League and lost against Torpedo in the Russian Cup quarterfinals.
KPRF's star players are talented Russian national team members Yanar Assadov and Artem Niyazov, Spanish internationals Raul Gomez, Velasco Lin, Simi Sayotti from Georgia, and two naturalized Brazilians, Paulinho and Romulo who will have to miss the final tournament due to the injury.
FutsalFeed's prediction:
In our opinion, Sporting is the biggest favorite of the final tournament. Lisbon's club is in great form (surely better than KPRF); therefore, we believe the Portuguese team will qualify for the semifinals.
Sporting 60% KPRF 40%
Kairat (4)
European winners from 2013 and 2015 and current Kazakhstan's champion Kairat defeated Belarus champion Viten Orsha in a tight first round (5:3) and Romanian champion United Galati (6:1) in the round of 16. In their 17th Champions league campaign, Kairat reached their ninth final tournament.
Kairat finished the regular part of Kazakhstan's championship season with 91 out of 96 points and won all five matches in playoffs with a goal difference of 35-8. In the finals, they will play against Atyrau.
Besides superb naturalized Kazaktsnanians Higuita (goalkeeper) and Douglas Junior, there are also some great Kazakhstan-born players such as Birzhan Orazov, Dauren Nurgzhin, Dauren Tursagulov, Chingiz Yesenamanov, and Albert Akbalikov, as well as Brazilian internationals Gadeia, Ferndandinho (ex Benfica's player), Favero, Edson, and Rangel.
Benfica (5)
European champions from 2010 qualified for their fifth Final tournament after easily defeating Futsal Minerva (5:1) and Berettyóúfjalu (5:0) in the previous rounds.
Benfica finished second in the regular part of the Portuguese championship with 26 wins and four draws and losing against Sporting in national cup finals 2:6.
Benfica surely has one of the strongest rosters on the tournament with Portuguese national team members Afonso Jesus, Fábio Cecilio, Nilson Miguel, Tiago Brito and internationals Robinho, Ivan Chishkala (Russia), Diego Roncaglio, Fits, Arthur and Jacaré (Brazil), Hossein Tayebi (Iran - ex Kairat's player), Rafael Henmi (Japan).
FutsalFeed's prediction:
The most unpredictable match of the quarterfinals, in our opinion. However, we are giving a slight advantage to Karat since they have an interesting style of play with a flying goalkeeper.
Kairat 55% - Benfica 45%.
>>> 4+1 easy ways how can you support FutsalFeed