Hello futsal enthusiasts! Welcome to FutsalFeed - the most viewed futsal website in the entire world! Futsal Feed is a platform on which you can find most important global futsal news, all relevant results and statistics and, most importantly, our rich original content – columns of established futsal experts, interviews with most eminent futsal personas in the world, stories about global (and local) futsal topics, futsal analysis and other original futsal content.
Before you start browsing our content, check out the 10 most important things you need to know about futsal:
1. What is futsal?
Futsal is the official version of the indoor football (soccer) played under the regulations of FIFA. According to Wikipedia.org, futsal is played between two teams of five players each, one of whom is the goalkeeper. Unlimited substitutions are permitted. Unlike some other forms of indoor football, the game is played on a hard court surface delimited by lines; walls or boards are not used. Futsal is also played with a smaller, harder, low-bounce ball. The surface, ball and rules together favour ball control and passing in small spaces. The game's "emphasis is on improvisation, creativity and technique".
The name "futsal" originates from Spanish terms "fútbol sala" or "fútbol de salón" and Portuguese term futebol de salão which can be translated as "indoor football" or "hall football".
2. Who invented futsal?
According to the widespread theory, futsal was invented in 1930 in Montevideo in Uruguay (world football champion at that time) by Argentinian teacher Juan-Carlos Ceriani Gravier.
However, there is also a theory that futsal was invented in Brazil in mid-1950ies. You can read the whole story about futsal origins and find the answer to that 'million-dollar question' in this article:
> A million-dollar question: Who invented futsal?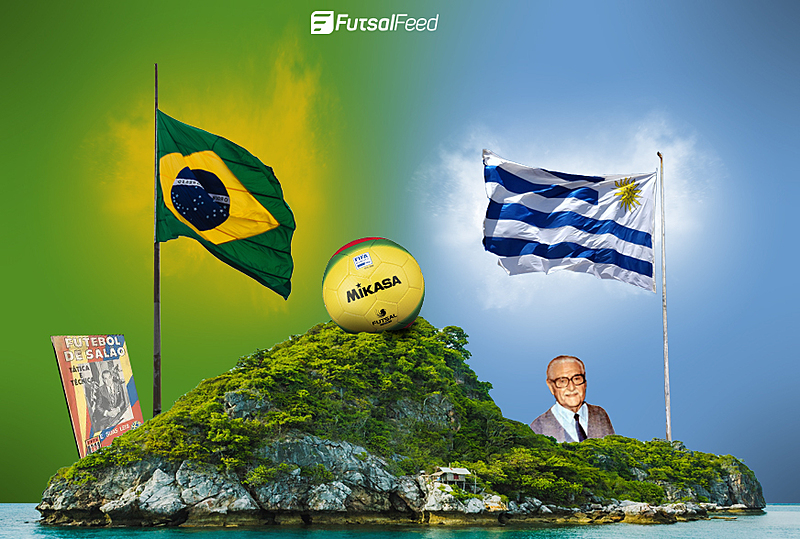 3. Which country is best in futsal?
According to the Elo-based ranking system, the best futsal country in the world is Brazil, both in men and women category! Brazil's men team won five out of eight Futsal World Cups (one silver and bronze medal) and 10 out of 12 South American Championships. Brazil's Women team won all six Women World Cups and five out of six Women South American Championships.
The second best futsal country is Spain with two World Cup gold medals (three silver medals and one bronze). Spain also won seven out of 11 European Championships (plus two silver medals and two bronze) and the gold medal on the only Women European Championship (Spanish Women team also won two silver medals and four bronze medals on Women World Cups).
>> The brief history of the FIFA Futsal World Cup
The third country that won the World Cup is the current world champion, Argentina. Futsal Gaúchos also won two South American Championships (and six silver medals).
>> Booming Futsal in Argentina!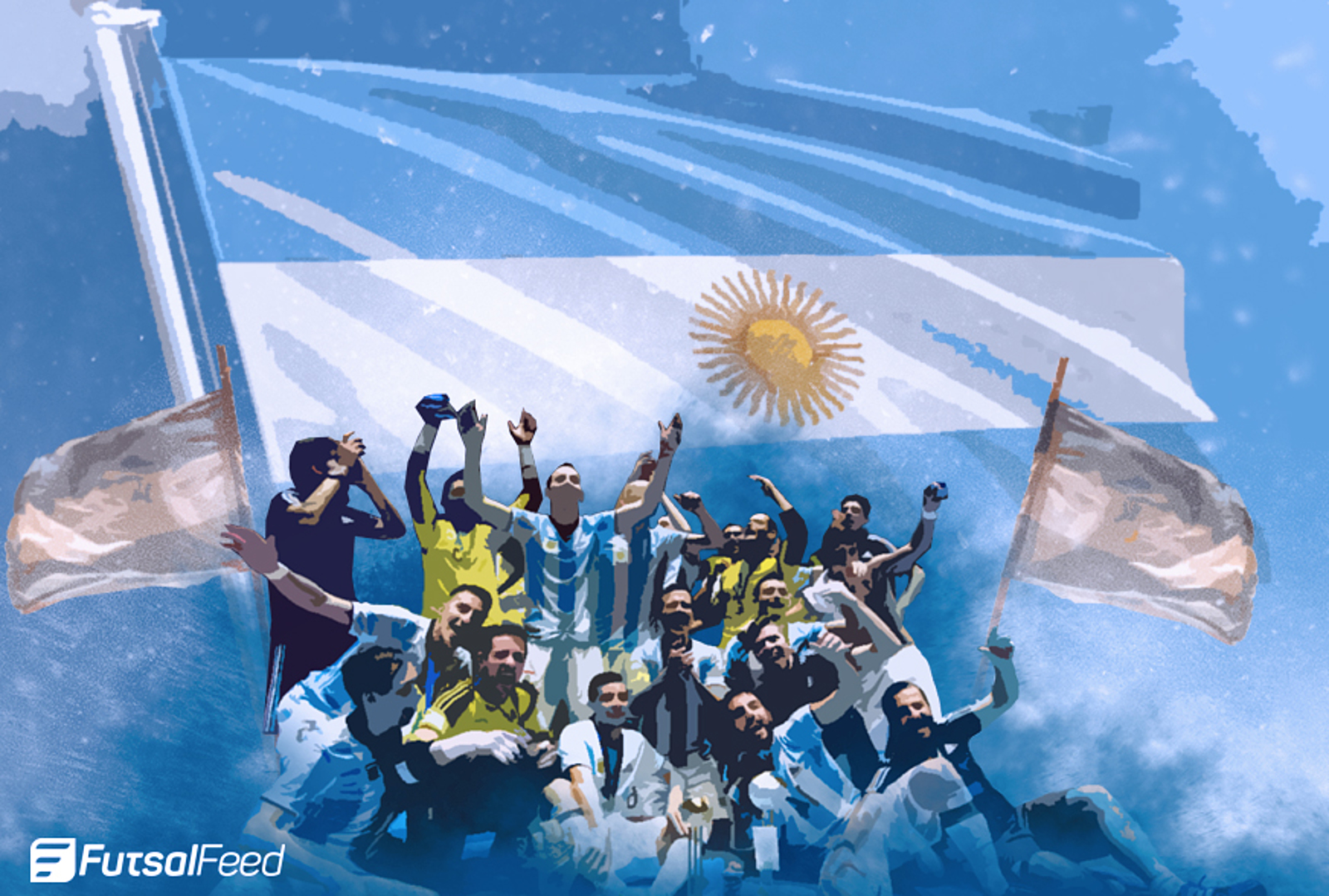 The best Asian country is Iran with 12 out of 15 continental championships (Japan clinched other three), the best African country is Egypt (three out of five championships), the best North American country is Costa Rica (three out of six), and the best Oceania's country is Solomon Islands (six out of 12).
Among the best futsal countries in the world, there are also Russia (one European gold medal and current world vice-champion), Italy (two European golds) and Portugal (one European gold medal).
>> Brief history of the UEFA Futsal Euro
4. What is the best futsal league in the world?
The best club futsal is played in five countries – Argentina, Brazil, Portugal, Russia and Spain. Brazil's Serie A is considered as the best futsal league in the world, and Spain's Primera as the best European league (by some experts, Primera is even better than Brazilian league).
> The Takeover of Spanish Futsal League!
Intercontinental Futsal Cup (organized by FIFA since 2004) is an international club championship for futsal. Brazilian clubs won the title in 10 occasions (including last four), Spain clubs have six titles (Inter Movistar in five occasions), Russian clubs two titles and Kazakhstan one.
Futsal clubs which are considered the best in the world are: Magnus Futsal, Carlos Barbosa, Jaragua (Brazil), Barcelona, El Pozo Murcia, Inter Movistar (Spain), Benfica, Sporting (Portugal), Dina Moscow, Dinamo Moscow, Gazprom-Ugra (Russia), Boca Juniors, Pinocho, San Lorenzo (Argentina), Luparense, Pesaro (Italy), Kairat Almaty (Kazakhstan), Mes Sungun (Iran)….
5. Who is the best futsal player of all time?
When talking about best futsal players of all time, the conversations is narrowed only to two names – Brazilian legend Falcão and Portuguese player Richardinho.
We wrote articles about both of those superstars, so it is maybe best that you read them, watch a few video clips and decide by yourself who is better between the two 😊
> 5 things you didn't know about Ricardinho
Other notable players in futsal history are: Manoel Tobias, Schumacher, Ferrao, Tiago (Brazil), Sergio Lozano, Kike, Javi Rodriguez, Paco Sedano (Spain), Sayakhmetov (Russia), Stefano Mammarella (Italy), Leo Higuita (Kazakhstan).
In the women category, the best player in futsal history is Brazilian Amandinha who won six consecutive Futsal Planet Awards for the best female player in the world (her compatriot Vanessa was voted best in three occasions).
> 20th Futsal Planet Awards - All You Need To Know About Futsal Planet Awards
6. Futsal vs football?
A lot of people will say that futsal is football's smaller brother. Well, they would probably be correct. Futsal is a "football on the smaller pitch", even though it has elements from other team sports such as basketball (number of players), handball (size of the court and goals), water polo (flying-goalkeeper)…
>> FIFA World Cup Finals: Futsal vs Football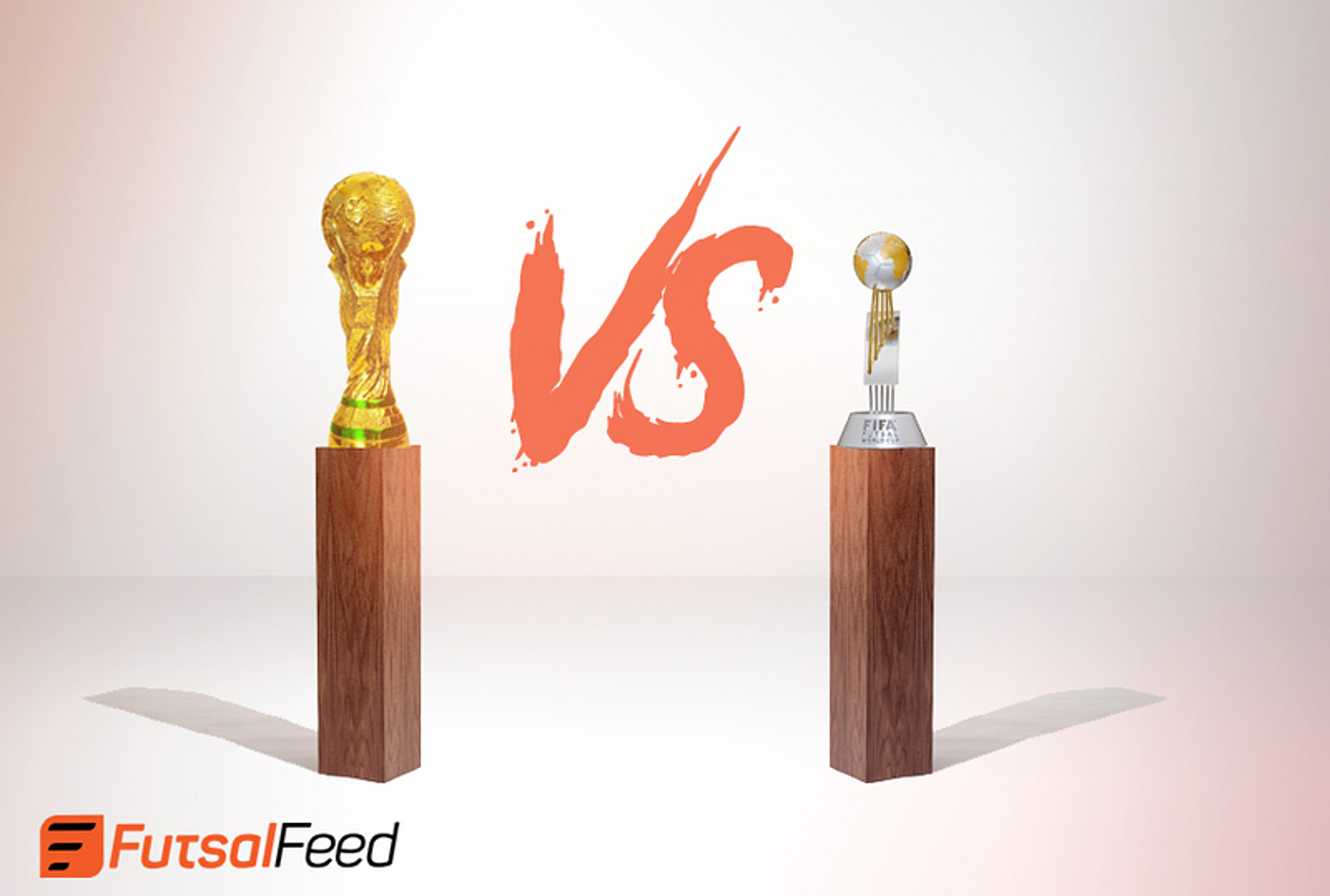 Indeed, futsal has most correlations with football. The proof of this is the fact that many of the footballers which are considered as the best in the sport's history have played futsal in the earliest stages of their careers (in fact some of them said that they enjoyed playing futsal more than playing soccer).
>> Top 10 footballers who played futsal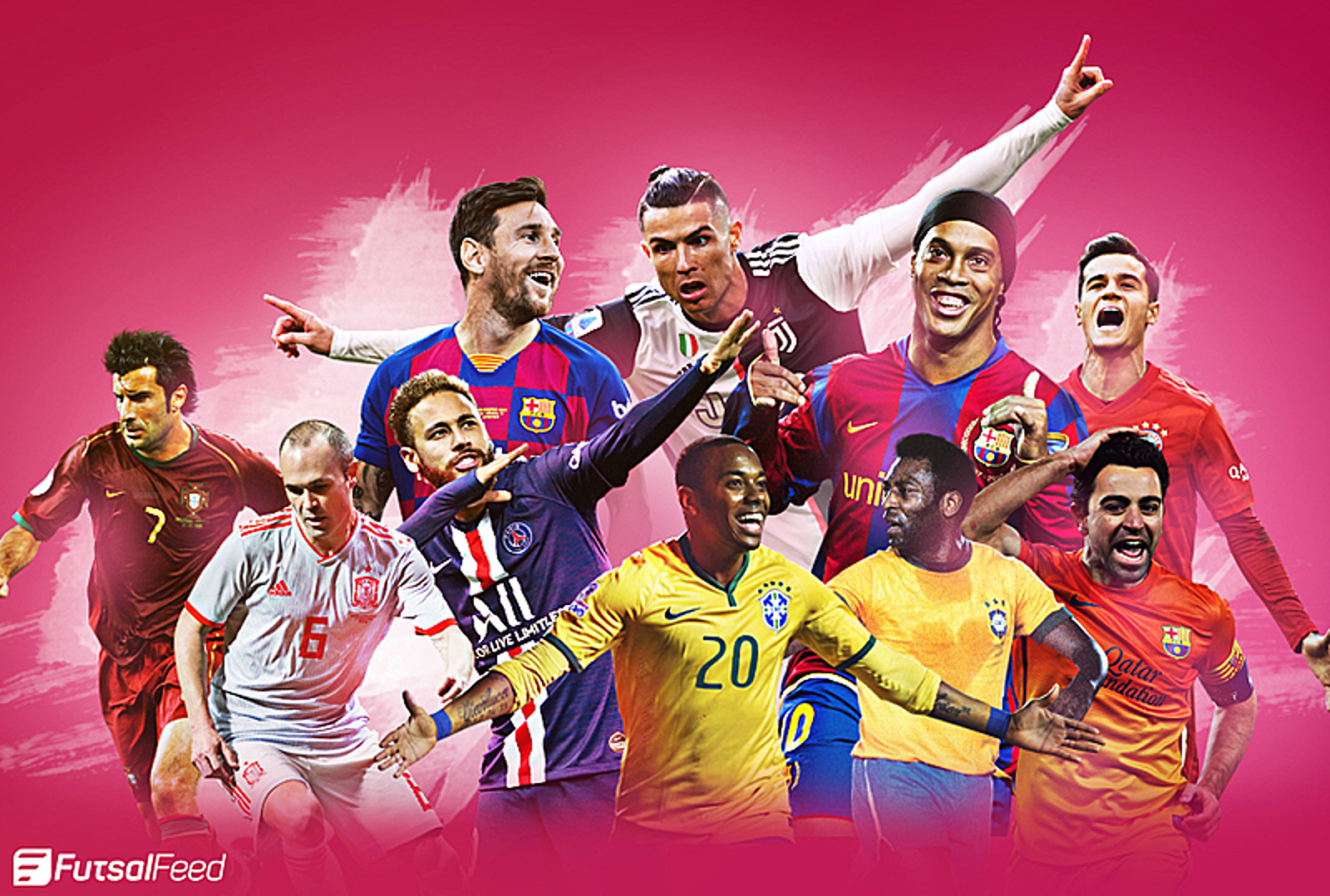 There is also a big correlation between playing futsal and improving football technique, decision-making skills and other elements of the "big" football. It is no wonder that technically most profound football nations are Argentina, Brazil, Portugal and Spain, the countries with a long and spread futsal tradition.
>> What is the best footballing futsal team ever?
7. Futsal vs indoor soccer (football)?
Very simple. Futsal is the official version of indoor football (soccer). Futsal is played by standardized rules and regulations (number of players, size of the ball, etc.), while there are "million" different versions of indoor soccer. Indoor soccer can be played with 7-players-a-side, 6-a-side, 5-a-side, 4-a-side, 3-a-side, 2-a-side, with different sizes of a ball and goals, with walls or boards… futsal cannot. It has standardized rules, and it is governed by the regulations of FIFA.
8. What is futsal's governing body?
Futsal's official governing body is FIFA (Fédération Internationale de Football Association) which took the government over futsal in the late '80s of the 20th century.
However, there is also another futsal's government body called Asociación Mundial de Futsal (AMF) with the headquarters in Paraguay's capital, Asuncion. AMF was founded in 1971 in Rio de Janeiro as the International Futsal Federation (FIFUSA) and changed the name to AMF in 2002.
First FIFUSA World Championship was held in 1982 (Brazil) and they are organizing it every three or four years since then.
We still didn't write an article about the dispute between FIFA and AMF, but we will publish it soon 😊
9. Is futsal an Olympic sport?
In 2018, futsal became the official sport of the 2018 Summer Youth Olympics in Buenos Aires. Unfortunately, futsal is still not a part of the Summer nor Winter Olympic Games. Why? There is not a concrete answer.
There are speculations that futsal will become Olympic sport for the 2024 Summer Olympic Games in Paris.
Recently we wrote an April Fool's Day Article that futsal will become an Olympic sport in Tokyo 2021. In that article, we wrote in a simplified way why futsal is still not an Olympic sport, but we will certainly investigate this topic more thoroughly in the following weeks.
> Coronavirus could push futsal to the Olympic Games
10. What are the best futsal shoes?
Recently we also wrote an article about Top 6 indoor futsal shoes. If you don't only like reading about futsal, but you are also a passionate futsal player, this is the article that you shouldn't miss: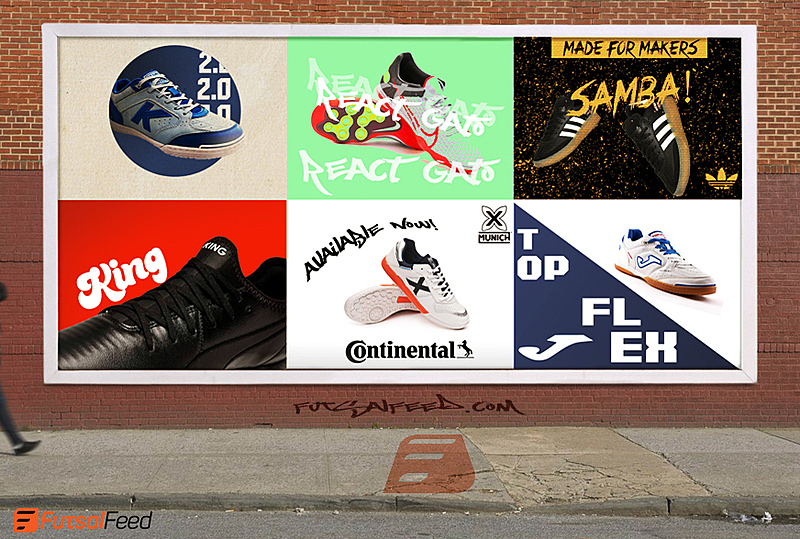 *Answers for some other questions about futsal you can find here:
> Top 6 questions about futsal in Quora - we found answers
Contact us and share your story with the biggest futsal community in the world!
If you like our content and work, please follow us on our official Facebook, Instagram, YouTube and Twitter pages.
If you would like to get the original content first, immediately after we publish it and straight to your inbox, please SIGN UP to our newsletter.
In addition, if you have some interesting futsal story that you would like to share them with us, you can contact us HERE, or just send your article HERE.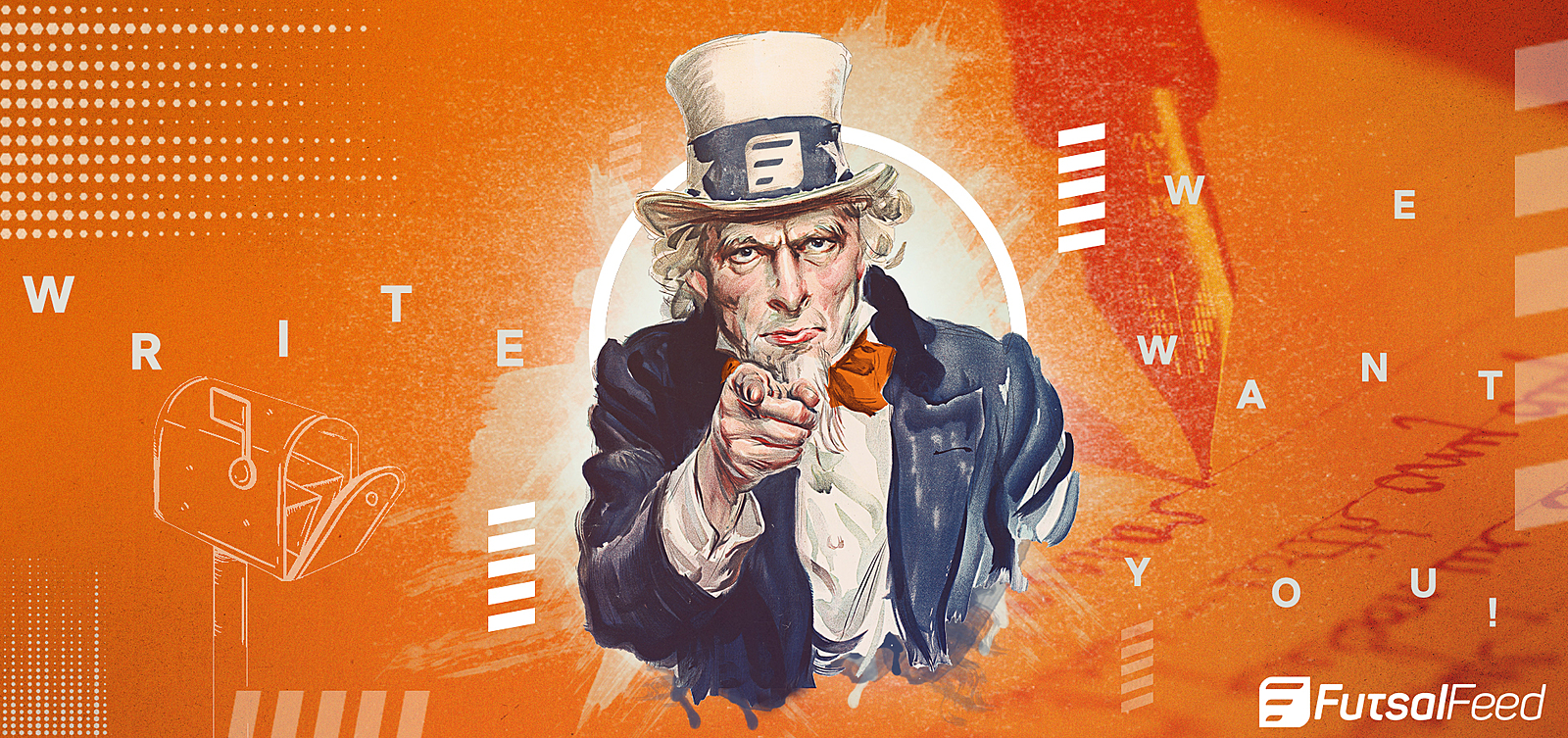 Your Futsal Feed
P.S. If you like our content and would like to support our work, you can donate any amount to FutsalFeed on THIS LINK.